Relatable and Real, AllSouth AllStar, Chevalle
AllStar Chevalle has a warm and inviting presence that will help you feel at home the second you step inside our Celia Saxon location. As a head teller, Chevalle is in both a member-facing role and a team leadership role, supporting and assisting her team while helping our members. It's clear that Chevalle sees our members as the most important part of AllSouth – telling us that our members are the heart of the credit union. She is real, relatable, and embraces change and new challenges with open arms.
Chevalle has been an AllSouth team member for over 17 years. Starting off as a teller, she continued to advance in her career, reaching her current position as a head teller where she has the opportunity to train and lead her team. Through all of her different positions, Chevalle has seen how important the member and teller interactions are to the credit union - explaining that it's that personal connection we have with our members that really sets us apart. She is passionate about the unique community impact the credit union offers, and loves that she is able to get to know our members personally. While she still gets plenty of interaction with our members, Chevalle's other main priority is to supervise the tellers at her branch and oversee the overall functions and operations of the branch.
One of Chevalle's team members described her as being "relatable, real, and straight forward," while also making note that Chevalle makes every day feel like a family gathering – she takes care of her team, and they know they can trust her. She's looking out for what's best for our members, but also what's best for her team, which in turn helps us to better serve our members. While observing the branch during the interview process, not a single person came in who at least one of the team members did not know by name. All of Chevalle's team members have been inspired by her attention to detail when it comes to serving our members. She sets an example that inspires others and challenges them to be the best version of themselves.
Chevalle feels very strongly about being a team player, and she believes the best way to keep a strong team together is to adjust as necessary. Chevalle is fun, energetic, positive, personable, and has mastered the art of managing a leadership role within her team. Her ability to handle this dynamic with a genuine smile comes from her strong beliefs about team work. Chevalle motivates her team, helping them to be confident in their interactions with our members. She leads by example, but won't hesitate to offer one-on-one help if a team member needs help working through an obstacle. Her regional branch manager said that "regardless of what is going on around her, Chevalle is patient and gives the member or team member she is assisting her undivided attention."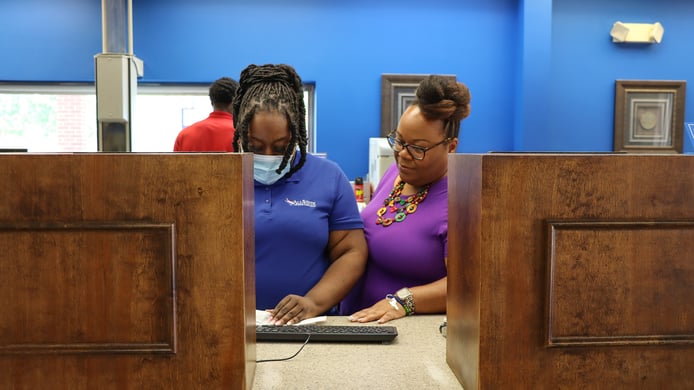 Chevalle's ability to stay patient and her inclination to help others is led by the words of her great grandmother, "change should be looked upon as a challenge, not a threat." This quote inspired Chevalle to take the opportunities that led her to working at AllSouth, and has continued to encourage her to embrace change while welcoming others to do the same.
Chevalle's advice when it comes to finances is that starting where you are is extremely valuable. As someone who had to educate herself on how to handle her finances, she feels very passionately about helping our members start saving and using all of the services we offer to reach their goals. Chevalle, along with her team, shared several stories about members who came to them with little to no knowledge about their finances and were in need of guidance. In what seems to be her typical style, in addition to assisting these members with their immediate need, Chevalle also helped them learn how to manage their finances. This attitude of teaching and explaining rather than just correcting is evident when Chevalle is working with our members and with her team. Seeing long-term changes in the spending and saving habits of some of the members she's helped showed Chevalle that she has the ability to make change in her community. When reflecting on this, Chevalle said "we're all the same when you get down to it, something will always bring us together regardless of what may seem to make us different."
Chevalle told us that a lot of members she talks to aren't familiar with our Personal Loans and how these options can help them cover the cost of the unexpected. She told us about one member in particular who returned to the branch one day just to tell Chevalle how helpful the Personal Loan she assisted him with was. He explained how having that loan available helped so many other things fall into place for him. This heartfelt member interaction is just one example of the type of experiences Chevalle has daily, and why she loves AllSouth so much. As a credit union, we have the ability to really know our members, and for them to really know us. Chevalle said that great customer service provides our members with a sense of belonging.
Chevalle's talent for lifting up those around her carries on outside of her day at AllSouth. On the weekends, Chevalle is a praise and worship leader at her church, and has been singing for people since she was eight years old. Chevalle also provides weekend childcare, supporting parents who need a helping hand. She believes that it takes a village to raise a child, and is passionate about child care. She loves to inspire children and over the years has helped many discover and embrace their talents and gifts through her church's children's choir. She told us that being in a supervisory position at AllSouth actually helped her discover her talent and passion for teaching, and led her to start working with children in her local ministry.