AllSouth AllStar Jonathon
We recently sat down with Jonathon at his branch in Batesburg-Leesville to find out what makes him an AllStar. Jonathon is well into his 7th year with AllSouth. He started out as a teller at our Garners Ferry location and quickly worked his way up and around to various locations, learning a lot along the way. After settling down in Lexington with his family, he found a home at our Batesburg-Leesville branch as a member service representative. Let's find out a little more about our June AllStar.
Q: Tell us a little about yourself.
A: I am originally from Northern Virginia. I moved here shortly after high school. I attended USCL where I was pursuing a degree to be a PE teacher and possibly a football coach. I transferred to USC after two years and changed my major to tourism management, thinking I would work on a cruise ship and see the world. After I met the woman who would eventually become my wife, I decided to focus on a career that wouldn't require as much travel and would allow me to stay local. I merged my studies into a degree in interdisciplinary studies.
Q: How did you get your start at AllSouth?
A: After graduation, I found myself looking for a job and saw a posting for a position as a teller. I applied, interviewed and ultimately got the job.
Q: What does your current position entail, and what is your favorite part about your job?
A: I work on both the teller line and in the office, so I get to assist in all aspects of the AllSouth member experience. I think that knowing I am making a difference in people's lives by helping them with Personal or Auto Loans so they can take care of things brings me ultimate satisfaction. On the teller line, I have quick-but-memorable interactions with members as they do their everyday banking. In my office, I'm able to answer more in-depth questions and help members find the product or service that's the best fit based on their current needs.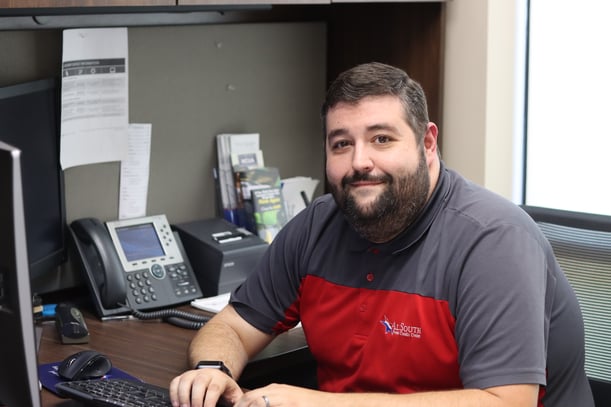 Becky, a fellow team member, said:
"There should be more Jonathons in the world".
Q: What's something you've learned about yourself or your community while working at AllSouth?
A: Interacting with people on a daily basis has helped me become more extroverted than I was before working at AllSouth. I've gotten better at handling high pressure situations especially on those days when the branch gets busy, and I need to help on the teller line one minute and then assist a member with a loan in my office a few minutes later. Regardless of what's happening, customer service is always my main focus.
Q: What's the best financial advice you have received?
A: Save your money. I can't stress that enough. Start saving early.
Q: What's something you are passionate about?
A: Sports, most definitely. Football and soccer, mainly. I am an avid card collector, and my favorite teams are the Dallas Cowboys for football, and Liverpool for soccer. I've built a pretty impressive collection that I hope to pass on to my son one day. I still love to travel and would jump at the opportunity to see the world.
Other team members that work closely with Jonathon had this to say about him:
"He is dependable, caring, thorough, kind, humble and always willing to help. Everyone should have a coworker like him."