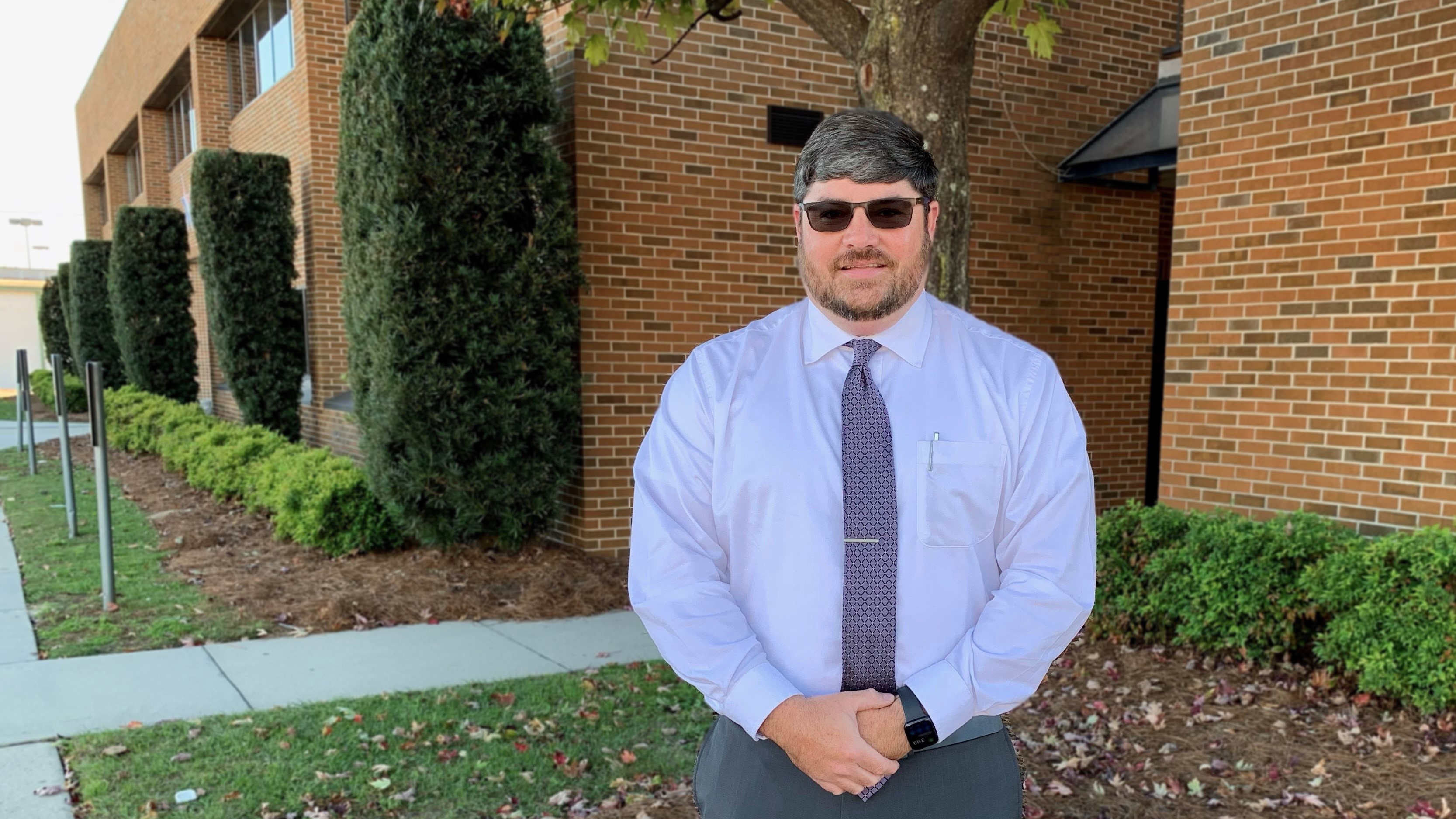 Making a Positive Difference, AllSouth AllStar Tracy
Monday, November 30, 2020
Read Time: 5 mins
No stranger to service, Tracy, our featured AllSouth AllStar, often goes above and beyond. From assisting members with their accounts, educating them about their finances and credit to mentoring his staff, his mission is to make a positive difference with anyone he meets.
According to Tracy, he has always been passionate about helping and serving people. Before being hired at AllSouth, Tracy proudly served as a police officer with the Sumter Police Department. However, he decided to switch careers to serve the community differently. While staying true to his passion for helping others, he decided to pursue a career in the financial industry.
Tracy joined the AllSouth team over ten years ago as what we call a floating branch manager – or a manager that works at various locations where assistance is needed. In this position, he traveled to several branches to assist members and team members as needed. He was determined and eager to learn the job, and because of that, he was promoted to branch manager. Tracy loves his job, and it shows. On a typical day, he assists members with general account questions and new loans. He's always willing to step in to help his team – you can even find him working the teller line on occasion.
At AllSouth, we strive to build lasting relationships with the members we serve. This is carried out through our team members such as Tracy. He never meets a stranger. "I'm proud of the relationships I have built, along with my team, throughout the years with our members and the community," said Tracy. He understands the importance of taking the time to listen to the member. It allows him to see beyond the problem they're facing to offer the best possible solution for their situation. "Tracy has a way to make members feel comfortable and relaxed with him. He is trustworthy and an advocate for our members. As a result, many members come back to him for any financial need," said Misty, regional manager.
Whether reviewing their accounts or educating members about their finances and credit, Tracy's goal is to help our members find a solution that works best for them. He remembers a time when a concerned member came to visit him about their auto loan. The member's vehicle was a total loss due to an accident and the insurance company didn't pay the total auto loan balance. The member was concerned because she didn't have thousands of dollars to pay the auto loan's remaining balance. After listening to the member share their concerns, Tracy discovered the member had purchased GAP (Guaranteed Auto Protection) when she bought her vehicle. GAP is an optional loan protection product that covers the difference between your vehicle's actual cash value and the amount you owe on the auto loan if your car is stolen or totaled in an accident. The member was relieved to learn that she had GAP, and it would pay the remaining balance of the auto loan.
Understanding, building, and maintaining credit can sometimes be a daunting and confusing task. Another example of Tracy's service is how he was able to help a member rebuild their credit and get back on track. The member wanted to purchase a car, but she needed to work on her credit first. She didn't know what to do about her credit. After reviewing her credit history, Tracy helped her with a plan that could get her back on track and improve her credit score. First, the member started with a shared secure loan to help establish a record of credit management. After paying off the first loan, she opened a secured credit card to further establish a record of credit management. After successfully paying off and managing several installment loans, overtime, she was able to be approved for an auto loan. The member was thankful to Tracy for helping her accomplish something she thought was out of reach.
"Leading by example" and putting his team first are just a few qualities Tracy embodies. "He demonstrates excellent leadership with his staff, emphasizing how important it is to maintain a high service level to build relationships," said Misty. Tracy is a manager that leads with insight and inspiration. "He's a good mentor and finds great pleasure in watching his team grow and achieve their career goals. He encourages his team and recognizes their accomplishments. Tracy is very knowledgeable about the credit union. We call him the 'walking procedure manual' because he knows everything," said Nicole, branch manager, who was part of Tracy's team before being promoted to branch manager. Over the years, several team members have been promoted to branch managers under his leadership. Many other team members have been promoted from teller to member service representative positions. "Tracy has taught me so much, and I am grateful for that! If I'm half the manager that Tracy is, I'm doing good!" said Nicole.
Outside of work, Tracy enjoys spending time with his wife and two daughters at Edisto Beach in South Carolina. They enjoy salt water fishing, boating, and tubing. Tracy, a proud graduate of the University of South Carolina (Go Gamecocks!), also has a love for motorcycles and woodworking. He recently took his first motorcycle ride to Outer Banks, North Carolina. It was an experience he will remember for many years.
The next time you're near the Parklane location, stop by and say "Hi" to Tracy and his team.
Related Articles
Developing a Brighter Future, AllSouth AllStar Cep
Advocating for Our Members, AllSouth AllStar Amelia