Capable and Caring, AllSouth AllStar, Kendra
Kendra is a senior trainer at our Operations Center located in Columbia, SC. Mainly working in Member Service Training, Kendra is responsible for training all of our member service representatives (MSRs).
Kendra began her journey at AllSouth as a floating teller, while working on her master's degree. Soon after starting her career with AllSouth, Kendra applied for and became a beginning trainer. She is currently one of our senior trainers and works with a small team to help ensure our team members have the training they need to be successful.
Kendra told us that her favorite part of her job is working with people. Being a trainer, Kendra helps our team members propel their careers forward – taking on new challenges that everyone approaches slightly differently. Kendra finds that she really enjoys "being able to provide the information that provides others the opportunity to do more." She supports and encourages her trainees, reaching out when she feels like something's off, providing detailed feedback on assignments, and giving them different types of learning opportunities.
Prior to 2020, most of the training was held in person at our Operations Center, but underwent some major changes over the past couple of years in response to COVID-19 protocols. Kendra was able to create a new version of the program that was not only shorter, but combined in person, virtual, and independent elements. Working with four to six team members at a time, Kendra is able to ensure that everyone gets the attention and help they need to be prepared to help our members in every way possible.
Kendra's trainees can be found at all 23 of our locations, working to make a positive difference in our members' lives. Described as a "delight," and being "extremely knowledgeable and approachable" by MSR trainees, Kendra's passion for encouraging and enlightening our team is clear. Another team member said that Kendra "does a fantastic job of ensuring I have full understanding, including examples."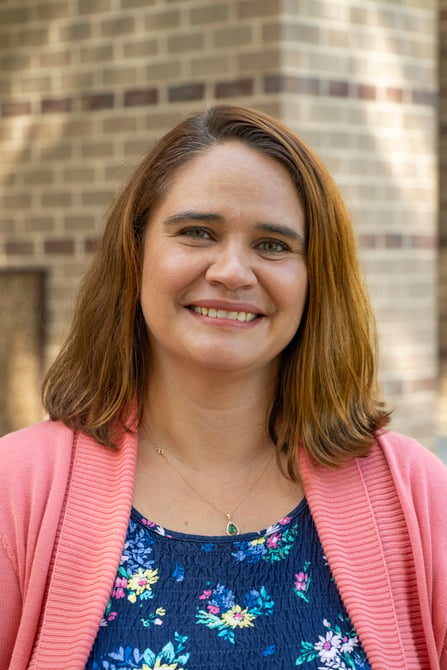 Sometimes one of the biggest challenges our members may face is simply knowing what service or product is the best fit for them. MSRs assist our members in person, over the phone, and even through mail, with loan applications, account set up, IRAs, and more, while also preforming the duties of a teller. Our MSRs handle a lot, so training them is no small task. One way that Kendra prepares them is having trainees work with her digitally, in person, and independently. The hybrid approach allows each MSR trainee to gain insight and experience for working with members in person, over the phone, or through email.
Kendra described her approach to training and her work in general as being focused on patience and empathy, always keeping in mind that the person in front of you is just that - another person. Each day has it's own unique challenges and rewards. As AllSouth evolves to better help our members, Kendra is continually working to reinvent the training process.
While Member Service Training may be what she does most frequently, Kendra also trains in other areas, including leading our New Lender Training and IRA Basics Training classes, as well as occasional soft skills training in collaboration with Kevin, our other senior trainer. When asked to tell us about a time when Kendra went above and beyond for a member or team member, Kevin told us that "it's truly difficult to describe a particular action that is above and beyond, because those actions are the norm when it comes to Kendra." Kevin and Kendra have worked together for 15 years. Kevin described Kendra as being someone who works efficiently, is detail oriented, dependable, and flexible, as well as creative and a wonderful brain-storming partner.
Dependable, and always willing to help, Kendra is well-reviewed by her trainees and team members alike. Cep, our Director of Training and Development and Kendra's supervisor, described Kendra as "hardworking, detail-oriented, and dedicated to helping others." Cep told us that "Kendra thinks outside of the box when it comes to designing courses and facilitating classes. She constantly searches for ways to engage employees to make the learning process interesting and fun." Cep also pointed out that Kendra goes the extra mile for her fellow team members, and not just her trainees.
Kendra, Kevin, and Cep all mentioned one experience in particular that serves as a great example of Kendra "going above and beyond everyday" mentality. During COVID-19 some of our training programs were put on hold and Kendra was asked to assist our Call Center by taking phone calls and speaking with members directly. While this was a new task for Kendra and very different from her experience training, she handled the situation in her usual style: with patience, professionalism, and efficiency.
Outside of AllSouth, Kendra spends time with her husband and three children, each of whom she loves very much. Kendra loves to travel with her family, especially a weekend beach getaway or taking a trip to Disney World. She says that she finds everyone can truly relax when they're away from home.