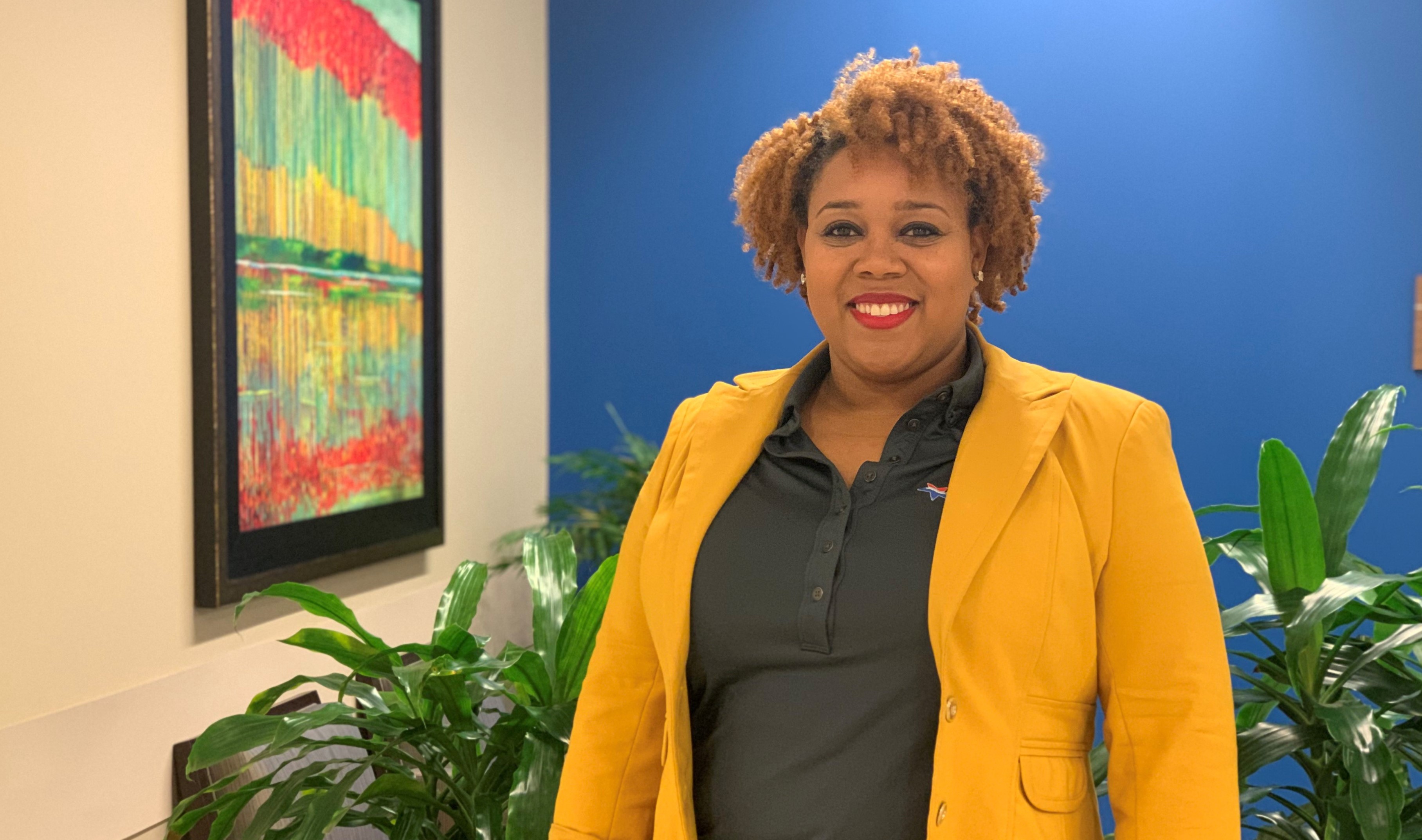 Building Trust and Lasting Relationships, AllSouth AllStar Latisha
Wednesday, December 30, 2020
Read Time: 2 mins
This month's featured AllSouth AllStar, Latisha, is a model example of what it means to provide great customer service, all day, every day. Her ability to listen, empathize, practice patience, and solve problems for our members and team members are attributes that make her an AllSouth AllStar. Latisha's goal is to ensure members have all the information they need to make well-informed decisions about their finances.
Latisha started her career with us as a teller over ten years ago. During that time, she has held multiple positions, and today she is the head teller at our Elmwood location. In this position, she supervises and assists the tellers as needed. You will find Latisha, on any given day, on the teller line assisting members with their everyday transactions.
She truly enjoys helping members. She also enjoys meeting new people - members and team members alike. Her wealth of knowledge allows her to assist members with their accounts, loan applications, and other important financial decisions. Latisha enjoys sharing membership experience with potential members. She provides information that is useful and clarifying, allowing the member the opportunity to decide what solutions will be best for them and their financial picture. Latisha knows it helps the member and potential members make smarter decisions about their finances.
"Latisha is a very knowledgeable employee that always goes the extra mile to provide our members with excellent customer service. She welcomes everyone coming into the branch with a smile and a greeting creating a welcoming environment for everyone visiting our branch. Latisha has excellent listening skills ensuring that she understands what the members need to provide them with services, suggestions, or advice to meet their needs," said Betty, branch manager.
Building trust and long lasting relationships with our member is top priority for Latisha. "From day one, she has stood behind her "My Pleasure" mentality. I have watched Latisha grow in her roles as a teller, member service representative, and into her current position. She consistently exhibits a member first and a positive attitude whether interacting with members, peers, or supervisors," said Carla, regional manager.
Latisha is most proud of her longevity with our Credit Union and her promotion to Head Teller. She believes having a good work ethic, empathetic ear, and the willingness to go beyond what's required has been her formula for success. Latisha also believes seeking opportunities to learn something new contributes to her success. We're happy to have people like Latisha on our team.
When Latisha is not working, she enjoys spending time with her family. She also enjoys visiting Soda City and Columbia Art Museum and going to the ballet. She loves to cook and calls the kitchen her "happy place". When she's not busy doing these things, she's planning her dream wedding for 2021.
Related Articles
Making a Positive Difference, AllSouth AllStar Tracy
Developing a Brighter Future, AllSouth AllStar Cep