AllSouth Federal Credit Union Voted Best Mortgage Bank
2023 marks the sixth year in a row that AllSouth has been named the Best Mortgage Bank in Columbia*, and we couldn't be more proud of our mortgage team. Each team member has continuously upheld our core values of service, respect, collaboration, empathy, and adaptability when it comes to helping our members finance their homes.
From your first conversation with one of our loan processors, to maintaining your mortgage payments with our servicers, we're here to collaborate with you through every step. We take your homebuying journey seriously and personally, because we believe in helping our neighbors fulfill their dream of homeownership. We service all of our mortgages for the life of the loan, so you can rest assured that all of your payments and questions will remain with the local team you know and trust.
Homebuyers like you come from all walks of life, and have individual circumstances and unique needs when considering a mortgage. By understanding these differences, staying up-to-date with trends and changes in the market, and implementing internet-based systems and tools to simplify the process, our ability to adapt has allowed us to provide the best products and rates to meet each member's needs. We avoid providing cookie-cutter service to our members because no two members are the same.
A major cornerstone to our mortgage team is respect. It's important that we give each of our members an equal level of care and attention. This is how we build trust and foster lasting relationships with our members, even beyond the homebuying process.
The people handling your mortgage should be able to relate to your homebuying experience. It's easy for us to empathize with our members in handling complications, supporting progress, and celebrating the milestone of being cleared to close. We're not just your mortgage bank; we're your neighbors.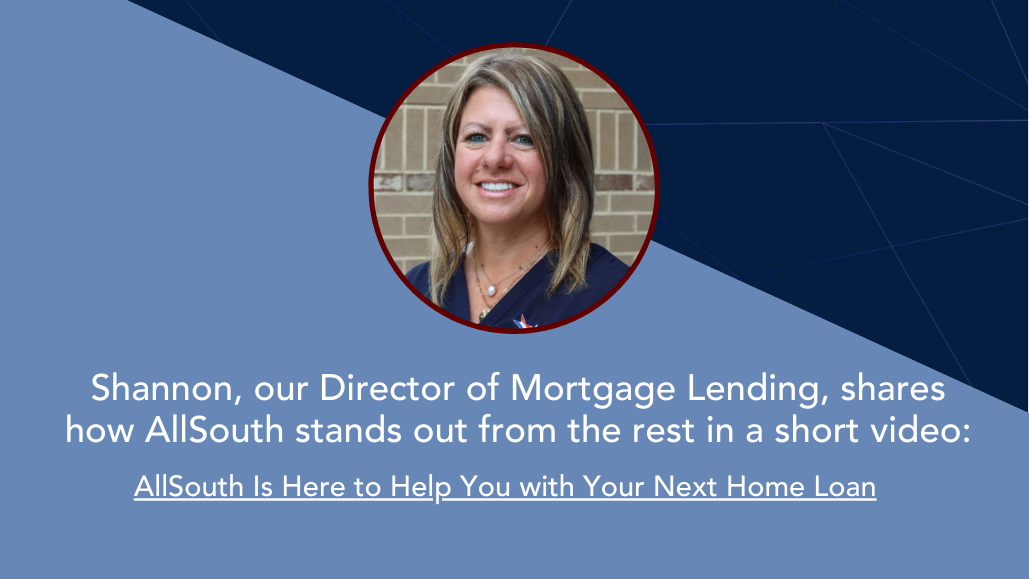 What our members say about their mortgage experience...
"HELOC was very easy, start to closing was very fast!" – Philip C. (2023)
"My experience for my home mortgage with AllSouth was wonderful. Tyler provided great communication the whole process and was detailed with everything. I am super pleased on how smooth everything went from the approval to the inspections and the closing. No complaints on my behalf. This is my 2nd time I used AllSouth for a home mortgage and will definitely continue to use them! Thanks Tyler!!" – Carmen M. (2022)
"From the first call to the last call, I was very pleased with the service I received from Diane Werner. Diane was confident, reassuring and very knowledgeable which gave me complete confidence in my decision. She listened to what I needed to help me make the best choice in refinancing my home. I would feel totally confident in recommending AllSouth/Diane Werner to anyone who is looking to refinance their home. Thank you!!!" – Regina S. (2022)
*As voted by readers of Columbia Metropolitan Magazine for 2018, 2019, 2020, 2021, 2022, and 2023.