Avoiding Online Car Buying Scams
Car buying is in high demand in today's market. When looking for a new vehicle, people are more informed and empowered than ever because of their access to research online before going to a dealer or talking to a salesperson on the phone. Whether you're shopping for a new or used car, there are many advantages to buying your car online. It is convenient (you can shop from anywhere with access to the internet), saves you time (you can shop anytime, day or night), and there's no pressure from a pushy salesperson.

Unfortunately, cybercriminals are aware of this too. They constantly look for opportunities to steal your money and identity. They create fake websites, emails, and false ads to convince you that what they're selling is legitimate. However, the more aware you are of their schemes, the better prepared you are to protect yourself from being a victim of fraud. Here are a few red flags to be watchful of:


Uses fake ads.
Be aware of the ads you see online at popular sites like Craigslist, Facebook Marketplace, and eBay Motors. Scammers frequently use these marketplace sites to post fake ads. The ads look convincing, but they are deceptive. For example, the scammer will post a picture of a nice car, along with a description and a phone number or email address of the fake seller. Before you make any contact with the seller, search their name, phone number, and email. You'll also want to include with their name words like "complaint," "review," and "scam" in your search.

Uses a fake escrow.
An escrow is an independent third-party that holds and protects your funds until a transaction is complete. Scammers will misuse the names of popular companies like Craigslist, PayPal, or eBay to convince the unsuspecting buyer that their money is safe and protected until they receive the vehicle and inspect its condition. Then, the scammer will send instructions to the buyer requesting they send the money by wire transfer or gift cards. Sending money using these methods is untraceable, making it easy for the scammer to get away with the crime.
"Always do your research on the vehicle before your make contact with the seller."
Seems too good to be true.
Who doesn't want a good deal on a car? Buying a car can be expensive, but if the price seems too good to be true, be cautious. It's probably a scam. Always do your research on the vehicle before your make contact with the seller. Scammers will price the car at a low price, trying to convince you it's a deal. When you see this happening, it's a red flag. An excellent place to start your research is the Kelly Blue Book, which allows you to see the vehicle value and pricing.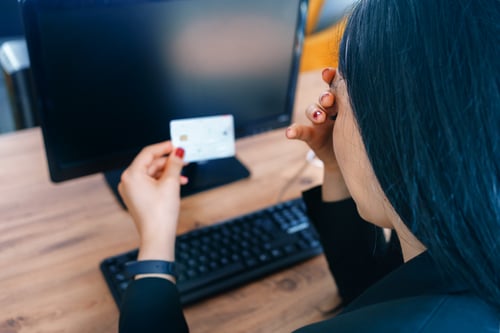 Requests a gift card payment.
It's a red flag if a seller requests payment in the form of gift cards. The scammer may request this form of payment because it's difficult to trace, and it could be difficult to get your money back. No legitimate dealer will request you pay with a gift card.


Pressures you to buy.
The scammer's goal is to close the deal as quickly as possible. They don't want to give you time to research the vehicle because they know it's not legitimate. The scammer may claim they need to sell the car right away. They may try to use convincing excuses such as they're being deployed overseas, going through a divorce, or they may share a sad story about mourning the loss of a loved one who owned the vehicle, and having the car brings back sad memories.
"Insist on inspecting the vehicle prior to purchase but don't go alone. Instead, you and someone you trust should meet the seller in person in a public location so you can check the car."
Refuses to meet.
Dishonest sellers will make up excuses for not being available to meet to allow the buyer to inspect the vehicle before making the purchase. For example, they may claim safety concerns due to the pandemic or tell you a sad story as a reason for not meeting in person. Insist on inspecting the vehicle prior to purchase but don't go alone. Instead, you and someone you trust should meet the seller in person in a public location so you can check the car. Avoid meeting someone alone you don't know.

Ways to avoid car buying scams.
Never send a wire transfer, use gift cards, or person-to-person money transfers such Cash App, PayPal, Western Union, or MoneyGram to purchase the car.
Never believe a seller who tries to convince you that your transaction is guaranteed with an independent third-party such as PayPal, Craigslist, and other online marketplaces. These online marketplaces will never guarantee the sale, nor will they confirm that the seller is legitimate.
Make the time to do your research. Look for reputable dealers and ask family and friends for recommendations to reduce your chance of falling prey to a scam.
Review the vehicle history report and look for salvage information, insurance loss, and discrepancies with the vehicle identification number (VIN).
Always trust your gut instinct. If something seems off, not quite right, or too good to be true, it probably is.
Don't be afraid to ask questions. Scammers don't want you to ask detailed questions about the transaction. The more questions you ask, the better. Ask for specific details such as the vehicle's VIN, who the vehicle is currently registered to, the history of the vehicle, etc.
Don't give out your personal or financial information until you've confirmed that the seller is legitimate.
Steps to take if you fall victim to a scam.
If you believe you're the victim of an online scam, report the fraud to the Federal Trade Commission (FTC).
If you've provided your banking account or debit card information, review your account and notify your financial institution if there's an unauthorized charge. They may be able to reverse the transaction.
Check your credit report for suspicious activity. Everyone is entitled to a free credit report each year from Equifax®, TransUnion®, and Experian®.


Whether you're buying your car from a dealer or online, always be alert and protect your personal information and money from scammers. For more information on how to protect yourself and your identity, visit our Security Center.