AllSouth AllStar NaKira
A new month means a new AllStar. Without further ado, we would like to introduce our August AllStar NaKira, the electronic services supervisor at our Operations Center. With over 14 years under her belt, NaKira is not a new face but one you may have only interacted with by phone or email. We recently sat down with her to learn more about what makes NaKira our August AllStar.
NaKira started her career as a teller at our Garners Ferry branch. When a position in our Member Answer Center (MAC) opened up, she jumped at the opportunity to help. Her focus in MAC was on electronic services, responding to secure messages and emails from members. NaKira worked in card services for over 5 years. There she was able to assist members and team members with questions about their Debit and ATM card as well as fraud/dispute claims.
During the pandemic, NaKira took some time away to pursue other ventures. Luckily, she didn't stay gone for too long and returned to MAC. Her hard work and leadership abilities quickly earned her a promotion to team lead. After proving her supervisory skills in MAC, she was given the opportunity to settle into her current role as our electronic services supervisor.
What is the electronic services department responsible for?
Electronic services wears many hats, but our primary responsibility is assisting members with their account needs and questions by email, mail, fax, and secure messages submitted through Online and Mobile Banking. We also assist with other credit union services like Bill Pay, Zelle®, and online account opening. Another responsibility is helping team members at our locations when they have questions about AllSouth technologies.
What is your favorite part of your job?
I love helping our members by finding solutions to make banking easier for them. It's a great feeling to know that a weight has been lifted from their shoulders and that I had a hand in that.
What made you apply at AllSouth?
In 2009, I wasn't quite sure what I wanted to do. Someone at my church told me that she worked for AllSouth, and they were currently hiring. I'd never thought about working at a financial institution, but I thought, "Why not?" It has been a great experience, and I am glad I took advantage of it.
What do you like to do in your time away from work?
I love spending time with my husband and two children in my spare time. Outside of that, I enjoy planning get-togethers with my friends and taking trips.
You mentioned taking trips; where would you go if money were no object?
If money were not an object, I would travel anywhere with blue water and nice weather!
What's the top item on your bucket list?
I would love to take my family abroad for an extended vacation.
What streaming series has your attention right now?
I know I am incredibly late, but "The Walking Dead" consumes all of my time right now.
What's your favorite food?
I enjoy seafood, Mexican, and Caribbean food.
What is the best financial advice you have ever received or prefer to give?
"Treat your savings account like a bill." This train of thought helped me set money aside to help build my savings account. Before I buy or pay anything, I put money into my savings account and work with what's left.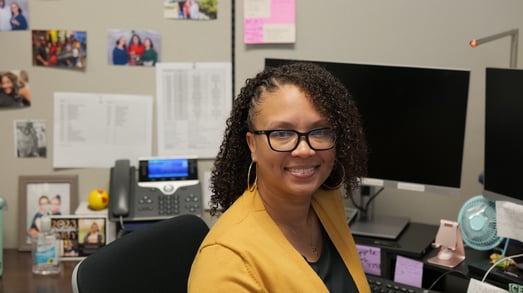 Here's what other AllSouth team members had to say about their experience working with NaKira:
"NaKira has served in many roles with AllSouth and done very well in each role. She is member service driven, wanting to truly help her members as best she can. The greatest quality that I have seen in her is her ability to talk with any person on any level. She is such a kind person and truly thinks through things before responding."- Devra, Director of Member Care and Support Services
"I have known NaKira for more than 10 years. NaKira has been a great friend who has always been caring and supportive, and as a co-worker, she has always been dependable and helpful. She is exact at problem-solving and always available to assist. She is a caring individual, and I can't think of a better person to be an AllStar."- Julius, BSA Specialist
"NaKira is a problem solver by any means necessary. She genuinely cares about her team and jumps in to assist when and where needed. NaKira is one that you can call to help you out whether it's at work or outside of work. She is genuinely loyal, and I'm glad to call her my friend."- Trinity, Call Center Supervisor