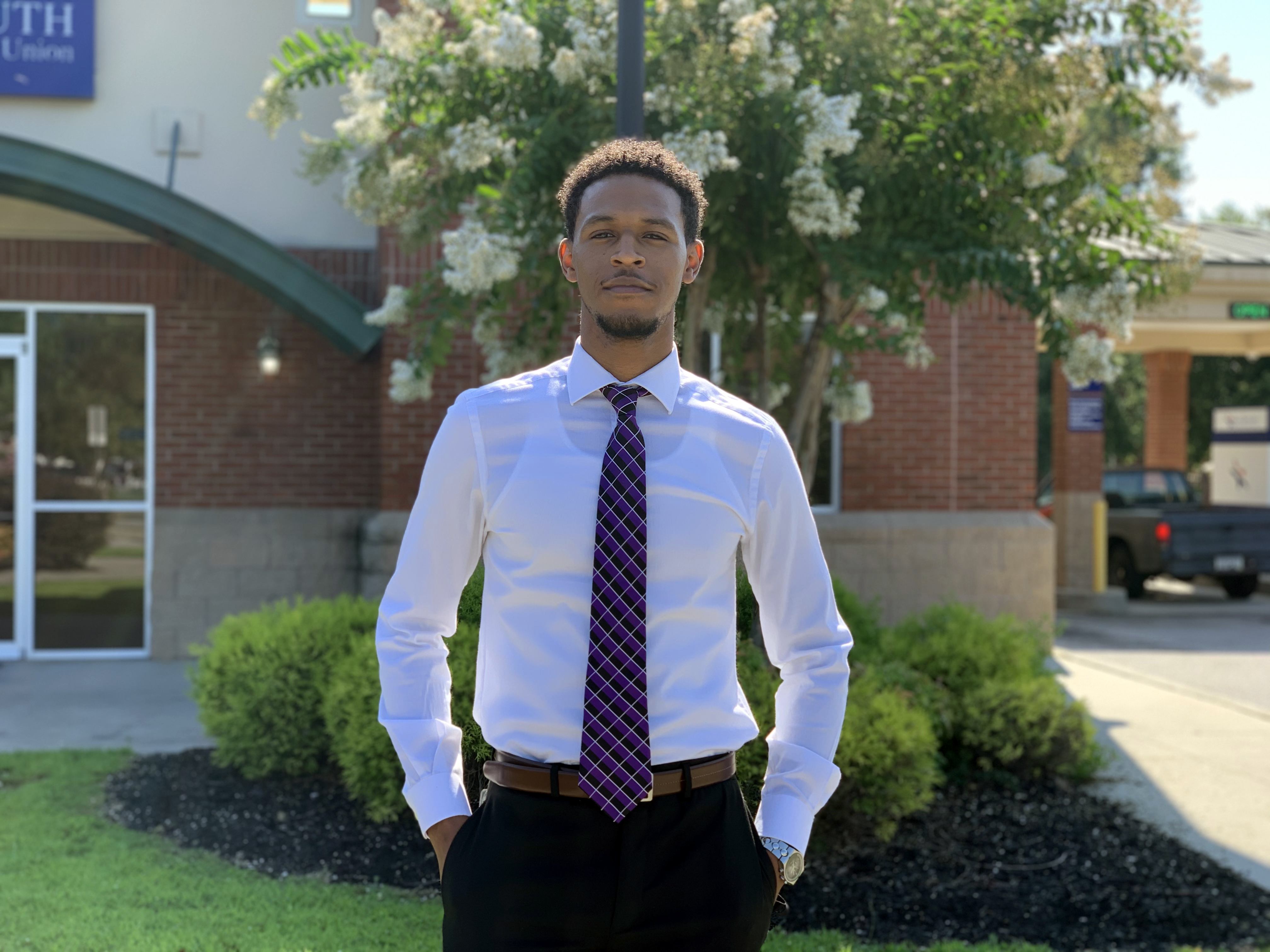 Problem Solving with AllSouth AllStar Jeremy
Tuesday, September 1, 2020
Read Time: 3 mins
Jeremy's positive attitude, knowledge, and ability to solve problems are just some of the qualities that make him this month's AllSouth AllStar. Jeremy joined our team in 2019, and he's been blazing a trail ever since. In his short time with us, he's developed a passion for helping members and has developed a great appreciation for team members he works with every day.

Jeremy started his career with us as a Floating Teller. A Floating Teller travels to any one of our locations to assist branches and serve our members. They process deposits, withdrawals, loan payments, and cash checks. Within seven months, Jeremy was promoted to a Floating Member Service Representative (MSR). Angela, his immediate supervisor, has only good things to say about Jeremy, "He has a warm and genuine demeanor with our team and our members. He puts forth the effort to learn and grow with the goal of better serving our branches. Jeremy makes members feel welcome at any branch he assists."

A Floating MSR has to be able to adapt to any situation and be willing to travel to any of our 23 locations to assist branches and serve our members. In his role, Jeremy could be working behind the teller line in Saluda one day, and the next day, he could be working as an MSR in a Sumter office opening accounts. He handles teller transactions, processes loan applications, opens accounts, and assists team members and other departments.

You can tell Jeremy enjoys what he does. It is reflected in his positive attitude and willingness to go the extra mile. He takes the initiative to make sure members are well informed about their accounts and understand their finances. "Jeremy's smile and positivity are contagious! I can tell that he enjoys providing excellent service to our members," said Kayla (another AllSouth AllStar). Our members frequently compliment Jeremy on his politeness and professionalism.

Jeremy shared with us the best part of his job is "listening to a member's problem, finding a solution, and working it all the way through until the member is satisfied with the results." It's important to Jeremy that he not only helps solve their problems but also wants to ensure our members understand their accounts. Angela, his supervisor, can attest to this. "I witnessed an interaction where Jeremy was assisting a member who was upset about his account. The member became very vocal during his interaction with Jeremy. Jeremy asked questions calmly and patiently until he was certain of the member's specific needs. He smiled with the member, made him laugh, never once showing any sign of frustration. Jeremy always delivers this type of service."

Jeremy's passion for helping members solve their problems also extends to the AllSouth team. His team members describe him as a hard worker, reliable, and fun to have around. "Jeremy is a team player and has a positive attitude, most often accompanied by smiles and laughter. He is always ready to assist in any way that he can," said Bryan. Another team member, Robby, said, "He is a very genuine person. I always enjoy having him assist at the branch."

Every day is different and presents its own set of challenges and situations, which keeps Jeremy excited about his job. As a Floating MSR, you may find Jeremy at any one of our branch locations at any time. However, no matter where he's located, he will give you excellent member service and a warm and welcoming smile.

When Jeremy is not at work, you may find him running or hiking nature trails throughout South Carolina, including Columbia, Rock Hill, and Greenville. He's been an avid runner since his sophomore year in college. Jeremy's favorite place to hike is in the beautiful mountains in Greenville.
Related Articles
Have a Laugh with AllSouth AllStar Laura
Caring for Members and Community, AllSouth AllStar Jill