Preparing for What's Next, AllSouth AllStars, Brittany and Camryn
Brittany and Camryn joined our team earlier this year as our marketing interns and have played an instrumental role in providing some of the information our members receive through social media, direct mail, billboards, and other media channels. From their very first day, they jumped right in to assist with the many projects the marketing team has going on. Their initiative, positive attitude, and enthusiasm are just a few of the reasons we're recognizing Brittany and Camryn as our featured AllSouth AllStars.
Brittany's primary role is graphic design, and Camryn assists primarily with social media. They are both seniors at the University of South Carolina studying visual communications with a minor in business administration. We recently had the opportunity to sit down with Brittany and Camryn so they could share first-hand their experiences while working as marketing interns at AllSouth.

Has your internship with AllSouth been different than what you expected?
Brittany: It's honestly been more fun than I expected. While there are guidelines I have to follow, I've been given freedom with my creativity and have really enjoyed my internship.
What's something you've learned through your internship with AllSouth? Brittany: I've learned a lot about digital ads and ad retargeting, how important analytics and research are, and that numbers matter. It's better to base your marketing on data instead of just putting ads out there and hoping they perform well. There's a lot that goes into a successful marketing campaign.
Do you have a favorite project that you've worked on during your marketing internship?
Brittany: Yes! My favorite project has been an Auto Loan mailer that's part of our Auto Loan Campaign. This project allowed me to use my creativity more and go in a different direction with it. It's been fun and exciting to be able to provide a different approach to promoting Auto Loans.
"Brittany works quickly and efficiently. She keeps up with all of her projects, adjusts when necessary, and takes on new tasks with excitement. She has a positive outlook and is very creative," said her supervisor, Karen.
Has it been difficult balancing your school schedule with your internship?
Brittany: It has definitely been an adjustment. Balancing work time between rest time and getting schoolwork done has been interesting.

What would you tell someone who's thinking about working at AllSouth?
Brittany: Definitely apply. The atmosphere is great and the benefits are really good, even for interns. We get paid well and also get PTO (paid time off). You'll also gain important real world experience.

What are your plans after you graduate?
Brittany: I'm originally from Lexington, SC and want the opportunity to experience living somewhere outside of SC. After I graduate, I'm planning to move to Denver, CO and work in digital marketing.

In between balancing a busy school and work schedule, Brittany also enjoys yoga which is something she got into during the pandemic. She said yoga has helped her stay flexible and is very calming. She's also really into Sphynx cats (type of cat known for its lack of hair) and hopes to get one in the future.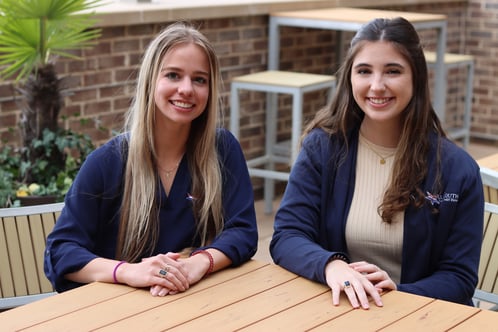 Why did you apply for the marketing internship at AllSouth?
Camryn: I applied because I wanted more experience doing in-house marketing. As a young professional I'm trying to figure out what route to take post-graduation and was excited about the opportunities offered here.

What's a typical day like for you as a marketing intern at AllSouth?
Camryn: A typical day includes scheduling social media posts, checking up on accounts on social platforms, making content for social media, and interacting with partner businesses and organizations on social media. Sometimes I get some meetings thrown in there. I also create social media ads, which I really enjoy doing.

Is there anything you've learned about credit unions that you didn't know before starting your internship?
Camryn: I didn't know much about credit unions before starting my internship with AllSouth. Working for AllSouth has really opened my eyes to the different products and services credit unions offer. AllSouth is also all about serving the community and getting to know our members so we can provide them with the right services.
Camryn's supervisor, Karen, had this to say about her. "Camryn has done a nice job of finding creative ways to share information about our products, services, and financial education on social media. Our team stays very busy, and Camryn is good at staying organized and assisting with additional projects that come up."
What's the atmosphere like at AllSouth?
Camryn: It's so friendly and very community oriented. The marketing team is a tight-knit group and collaborates well to make sure projects get done.

What types of challenges have you faced throughout your internship?
Camryn: My biggest challenge has been trying to be creative with content and concepts for social media that are relevant to our social media followers.

What's been the best part about your marketing internship with AllSouth?
Camryn: The best part is the people – everyone is very nice and welcoming. I've been given a lot of freedom and trust, which I appreciate. I think one of my favorite things I've gotten to do is some photography work, which I didn't expect would be part of my weekly schedule. It's pushed me out of my comfort zone and allowed me to get out of the office some.

What are your plans after you graduate?
Camryn: I don't have any definite plans yet, but I know I want to stay in marketing and get a full-time position. I'm from Charlotte, NC, so I might settle in Charlotte or Raleigh after graduation. We'll see where the wind takes me.

When Camryn's not keeping up with school projects or planning AllSouth's social media schedule, she enjoys singing. She used to participate in musical theatre in high school and can play the ukulele. One of her favorite songs to play is Budapest.


We have enjoyed having Brittany and Camryn on our team and are excited for what the future has in store for these AllStars who are just days away from graduating from the University of South Carolina. Congratulations Brittany and Camryn, and thank you for your hard work and positive attitude over the past few months. We will miss you!