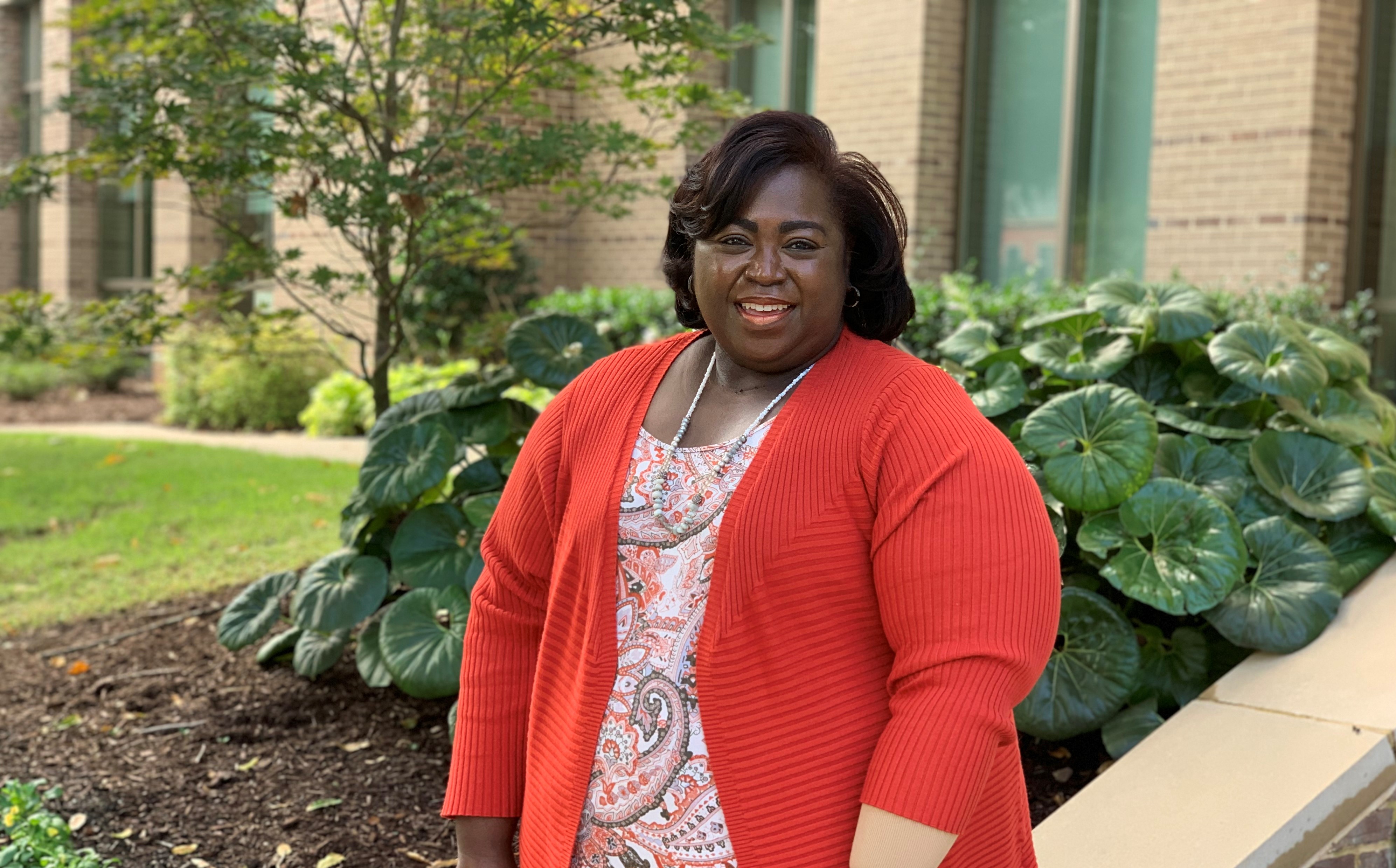 Developing a Brighter Future, AllSouth AllStar Cep
Wednesday, October 28, 2020
Read Time: 3 mins
"Education is the most powerful weapon which you can use to change the world," said Nelson Mandela. This is a favorite quote of Perceffenessee "Cep," one she truly believes and lives by. Cep's love for teaching and seeing team members grow and develop in their career is what makes her our featured AllSouth AllStar.
Cep has been our Director of Training and Development for over 12 years. Cep's grandmother was the inspiration for her love of learning and teaching. At an early age, the library became her favorite place to retreat. There she would immerse herself in books, especially the Nancy Drew Mystery series. Who as a child didn't love Nancy Drew? She also recalls playing school with her cousins, and she was the teacher. Education and sharing knowledge with others has always been the fabric of her life.
Cep understands the impact that training can have on accomplishing our goals. In her role, she's responsible for designing, planning, and coordinating various training and development courses for our team members. She collaborates with senior management to analyze training needs to develop new training programs and modify and improve existing programs. "Training enhances employee performance, strengthens skills, and increases productivity and quality standards. Improved performance allows employees to provide excellent service to our members," said Cep.
Teaching is what Cep enjoys and finds the most rewarding. "The highest level of joy in what I do professionally comes from training and classroom instruction," said Cep. When Cep is not designing and collaborating with other team members, she's teaching our Customer Service, Business Finance, Diversity, Inclusion, and Engagement training courses. When she facilitates a class, it allows her to interact with employees and provide knowledge and resources they need to perform their jobs. "Cep's passion and drive for teaching show when she instructs a class. She's always cheerful, and her smile brightens the room. She knows how to make her classes fun and interesting with her personal stories and quotes from her grandmother (all relevant to the training content)," said Teresa, one of our team members.
When asked what's her favorite course to teach, she replied, "Customer Service hands down." Cep believes that providing excellent customer service is the heart of who we are at AllSouth. Whether we're providing excellent customer service to our team members or our members, we must be equipped and knowledgeable about our products and service to best serve our members.
On a typical day, Cep works with her training team to design, implement, and schedule training classes. "I have the best trainers in the world, and we are a great team. They make my job easy," said Cep. When she's not working with her team or planning courses, she's researching and seeking ways to improve our training program. "Over the decade-plus of working with Cep, I've seen first-hand that she is committed to the betterment of those she comes into contact with. As a supervisor, she cares about the well-being and development of her staff, even if it means sacrificing opportunities for herself," said Kevin, one of our trainers.
Cep never meets a stranger. With a warm and welcoming smile that will brighten your day, she truly enjoys interacting with people and assisting them when she's able. "She genuinely cares about employee's learning and development, and she's very observant while teaching her class. She interacts and listens carefully to make sure everyone understand the material she's teaching," said Kevin, her supervisor. Cep is well-liked and respected among our team members. "She brings a great sense of compassion, conviction, and self-inflection to her classes, demonstrating these attributes through her daily actions and interactions with everyone she encounters. Cep leads by example and provides us the tools to promote self-reflection, ensuring we are diligent in how we interact with everyone and that we are representing the credit union and ourselves in a professional and courteous manner," said Betty, one of our branch managers.
Her passion for teaching and serving others extend beyond the classroom at AllSouth. She serves and has served multiple leadership roles in industry associations, philanthropic organizations, churches, and community groups. As a seven-year breast cancer survivor, she's an advocate for breast cancer awareness. She wants to make a difference by educating and helping others learn more about breast cancer. Each year, she rallies our team, AllSouth Crusaders for the Cure, for the Walk for Life event to raise funds to benefit the Prisma Health Breast Center.
A good teacher never stops learning. Cep is currently pursuing a Doctoral Degree in Organizational Leadership. When she's not busy researching and writing for school, she's enjoys cooking Italian food and Southern cuisine, traveling to the Caribbean, and working with the youth and teens at her church.
Related Articles
Advocating for Our Members, AllSouth AllStar Amelia
Have a Laugh with AllSouth AllStar Laura