Looking Back at AllSouth AllStar Louann Ward's 48 Years of Service
Service and commitment are the legacies that AllSouth AllStar Louann Ward will leave once she retires later this year from AllSouth. Louann has been on our team for 48 years. (That's right....48 years!)
Over the years, Louann has seen AllSouth grow and change. When she started in 1971, AllSouth didn't have any computers, there were two locations, no ATMs, and digital banking wasn't thought of yet. Today, she is part of the ever-growing Information Technology team that have implemented digital banking solutions such as Online and Mobile Banking, eStatements, and more.
She started her career as an Accounting Clerk, working part-time while a senior in high school. As an Accounting Clerk, she worked mainly with tax forms when AllSouth didn't have computers back in 1971.
Louann's major project came in the '80s, as she tells it. "Our CEO, at the time, asked me to figure out how to install our first ATM. He told me to figure out how to make it work, how to break it, and how to fix it. It took some time and learning, but we figured it out and were able to get it running," said Louann as she described her project to us. "Then, the next step was for us to figure out how to connect the ATM so anyone could use it." With help from other colleagues and contract vendors, Louann was able to complete the project of installing AllSouth's first ATM. "Little did I know back then we would one day have 68 ATMs and have access to AllSouth from anywhere in the world."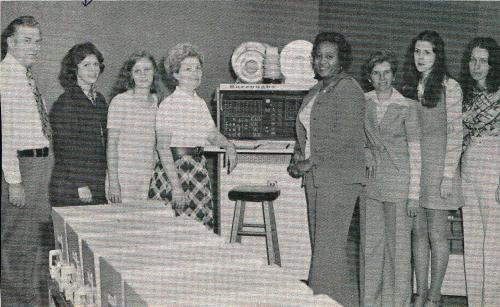 ​
Louann Ward (second from left) with AllSouth's first computer system at the Fort Jackson location. 1970's.
Louann's curiosity allowed her to flourish over the years. In her 48 years, she has worked on nearly every new project that AllSouth has taken on to enhance our member's banking experience, from new computer systems to ATMs, checking accounts, debit cards, online banking, telephone banking…you get the picture, the list goes on. She has researched and tested most of the banking solutions she helped create. "I have or have used every service that we provide. I enjoy figuring out how things work, how our systems work, and then turn it into a great solution."
As Louann progressed, she was promoted to the Computer Operations Administrator role. In this role, she develops and finds solutions for AllSouth's software programs. She directs and oversees the daily operations of our computer systems, ensuring that they run correctly and efficiently.
While Louann doesn't work directly with members, her work is essential to our day-to-day functions. She has made a lasting impression on every employee at AllSouth. Susie from the IT team said, "I have known Louann for 32 years. She loves to talk and has many stories about working at AllSouth. Louann is very knowledgeable about our systems, and her work here. She loves her grandchildren, her family, and shares their lives with everyone. I don't think there is anyone that Louann cannot talk to – or hasn't talked to for that matter. She will be greatly missed!!"
Michelle, from our IT team, said, "Louann is such a pleasure to work with. She has so much credit union knowledge. I could follow her around the office each day and wait; inevitably, she is going to teach me something new just by having a normal conversation about whatever she is working on. It's also fun to hear some of the stories about the Credit Union from years gone by and about how AllSouth has grown and evolved over time. She's irreplaceable and will be greatly missed once she retires!"
Whitney, a new team member, added, "As a new employee working with Louann, she makes sure that I have all the resources and information I need. She is also very knowledgeable and is willing to help any and everybody that approaches her with a question or concern."
There are many more stories from employees just like these. It would be impossible to include all of them and all of the things Louann has done for AllSouth. She has been a pillar of dedication, commitment, and a love for learning.
Louann married her junior high school sweetheart, Billy and has been married for 47 years. Their son, Heath, is married to Jennifer. They have two beautiful grandchildren, Brooke and Brady. Louann plans to retire later on this year, and she has many plans for her retirement. "I would love to take my family on another cruise, and we want to visit my husband's three sisters in Virginia that I found using Ancestry.com. We have only seen them twice and talk on the phone all the time. I have so many things I want to do while we are still able," said Louann.
To say Louann is a fixture here at AllSouth is an understatement. While Louann is preparing for retirement, we are preparing for a sad goodbye.
Louann, you will be greatly missed.