Kind, Compassionate Care with AllSouth AllStar, Christina
Living by the golden rule, "treat others the way you would like to be treated," Christina delivers kind, compassionate, sincere care for our members and their families. Christina's role as one of our member account support representatives is an essential service to our members, but it can be a difficult position.
Since joining our team over three years ago, one of Christina's main responsibilities has been processing information relating to deceased members, including death notifications and reclamations. This means she will be in touch and working with the families of our members, who are not necessarily familiar with AllSouth, and are generally going through a hard time. Christina told us that often times the members' loved ones may be unfamiliar with the necessary procedures that must be followed when a member passes away. Sometimes special paperwork is required before Christina can even release information about the deceased member's account to their loved ones, which can be difficult to understand, especially when someone is grieving. With an ever-steady calm and positive demeanor, Christina is able to explain all of the required steps and terminology, helping our members' loved ones during a very difficult time in their lives.
Christina says some days are busier than others, as her days are often centered around a notice relating to a deceased member, which she will have no prior warning of. Of course, these types of notices require immediate attention with special account notation and additional steps taken to secure any funds in the deceased member's account. This can be confusing for families and loved ones, which is why it is so important that our member account support representatives are caring, supportive individuals like Christina. She recommends that all members have beneficiaries for all deposit accounts, because leaving loved ones to handle your affairs through Probate Court can sometimes be a lengthy process.
In addition to processing deceased member notices, Christina reviews IRA transactions as well as processing loan payments and deposits that arrive in the mail. Along with her teammates, Christina is responsible for monthly reports, monitoring fee reversals, and researching requests for members. But, that's not all, Christina also assists with training other employees who assist with mailroom tasks.
Christina's manager says that one of the best things about working with Christina is her personality. Her coworkers told us that "Christina approaches every task as an opportunity to learn, and with a friendly, positive attitude. She truly cares about putting her best foot forward and helping others to do the same." Going on to say, "Christina is warm hearted, and her work ethic shows that she is very dependable. She always finds ways to make everyone's job around her a little easier." It seems like the feeling is mutual. Christina said that she "love(s) working alongside the ladies in our department" and that they "work well together as a team to assist the branches and or family members in difficult times." Christina told us that having a positive attitude is very important to her, as no one likes to work in a hostile environment, or be treated in a less-than-kind manner. She also believes that you should always take responsibility for your actions, even when it's tough to do. The biggest opportunity for growth comes from the vulnerability in admitting your mistakes.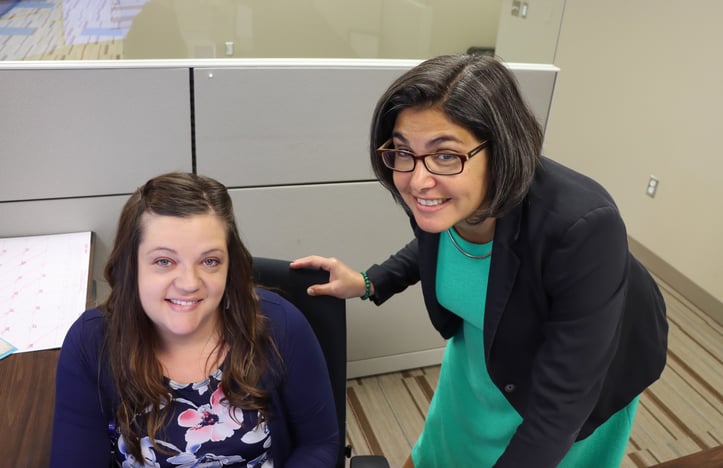 Christina is a firm believer that change always adds up, and suggests that everyone start saving even if it's only a dollar at a time. With inflation at an all-time high in our post-COVID-19 world, even a small amount of savings will help down the road. Christina also suggests that our members start a savings account that automatically has deposited funds transferred into it. Meaning that when a paycheck comes in, you can choose to have funds automatically transferred to a special savings account.
While telling us about her daily duties and tasks, we asked Christina if there were any recent experiences with members that were particularly meaningful to her. She actually recalled a situation with a non-member whose parent had passed away and left them an Inherited IRA. At the time, this person's financial institution was unable to assist with the funds in the Inherited IRA. This person lived out of town, and assumed that AllSouth would be unable to provide him with all of our services due to his location. Christina assured him that not only could he become a member, but that he could open his accounts with AllSouth using the Inherited funds. This non-member turned member was so happy with Christina's assistance that they decided to keep their accounts open and continue their membership even after they were able to withdraw all of the Inherited IRA funds. Christina provided high quality service and assistance to this member even before they were a member.
Christina spends all of the time she can with her family. She loves crafting, and baking, and sharing her confections with her loved ones brings her lots of joy. Every year she makes a themed cake and accompanying cupcakes for her daughter's birthday, and looks forward to doing the same for her 5-month-old baby boy. Christina also told us about traveling to Cozumel on her honeymoon, and visiting important historical landmarks in the United States with friends a few years ago. When it comes to looking to the future, Christina's dreaming of a trip to Italy, or Australia, and with her mindset on savings, we're looking forward to seeing those trips happen for her.